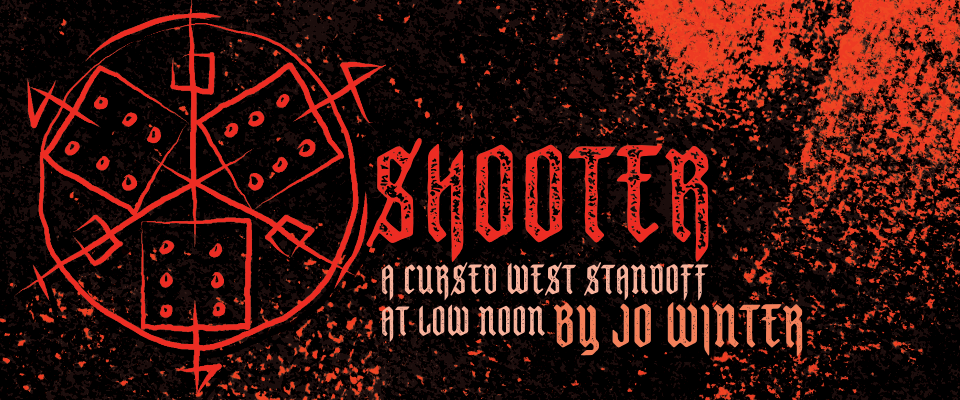 666 SHOOTER
666 SHOOTER
is a dice-based bluffing game for two players! Play as cursed cowboys duelling to the death in a grim western showdown!
Create your very own wretched gunslinger using random tables and face off against your one-time ally turned sworn enemy using a simple combat system! As the fight plays out, you'll describe the carnage, and discover the series of events that led to this moment.
ADDITIONAL RULES ADD NEW TWISTS!
Disturb the Rattlin' Brood…
Warp reality itself…
Put your immortal soul on the line…
666 SHOOTER is a 6-page colour PDF!
All you need to play is a good friend, and a handful (six to be precise) of six sided die each!
666 SHOOTER was written as part of Reliquary Weekly Jam 4 - Weird West
Special thanks to Tyr Andi Richter and Roxanne B. for their contributions to this project!

TESTIMONIALS
Oh DAMN how is it possible that every single option is the best possible option?
-Lara Paige Turner, Glaive Guisarme Games
666 shooter is at least six times better than most dueling games I've seen, and partner, I've seen plenty! Absolutely love how much of a terribly cursed time (in the best way possible) is present in bright and easy mechanics. The vibes are impeccable and I especially love how creative the additional rules are. 666/10 highly recommend!
-Rae Nedjadi, Sword Queen Games
We told a tragic space western about two siblings: one a skeleton man with a pistol shaped from his own beating heart, the other hunting him down with their sun-kissed revolver as they slowly turned to sand. One of the most metal games I've ever played.
-Sam Leigh, Blinking Birch Games
Purchase
In order to download this shootout you must purchase it at or above the minimum price of $5 USD. You will get access to the following files:
666 Shooter (Text Only) v1.pdf
88 kB
666 Shooter (Dyslexia Friendly) v1.1.pdf
66 kB
Exclusive content
Support this shootout at or above a special price point to receive something exclusive.
Community Copies
Each copy of 666 SHOOTER purchased helps someone else grab a free copy if they are unable to pay full price for any reason.
If you're unable to afford a copy of 666 SHOOTER, please claim one of these free community copies!
If you enjoy the game, please consider leaving a review or rating xox